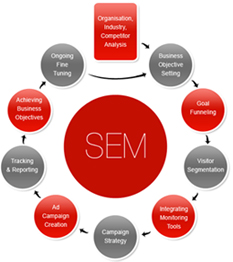 Social Media
Optimization
The web is often the first place people turn to in order to learn more about a product or service. Contextual pay per click (PPC) advertising can offer an inexpensive alternative to traditional marketing media, allowing you to cost-effectively reach a larger percentage of your target audience. When performed effectively, this complex form of online marketing can provide organisations with a significant competitive advantage.


How do we help our clients execute successful campaigns?
Our search engine marketing specialists guarantee maximum return on investment by undertaking a holistic approach; working collaboratively with our clients to ensure a thorough understanding of the organisation and its objectives, in order to create an effective campaign that will achieve measurable results.

Our SEM services are all-inclusive, offering:
SEM Planning & Analysis
Ad Campaign Creation
Ad Campaign Management
Reporting
Our SEM packages are tailored to meet each customer's unique requirements in order to guarantee optimal results. For more information call 011- 43096829 to talk to one of our consultants.